From 1753 the Union stage coach departed on the
Keighley and Kendal Turnpike
from what was the Devonshire Arms coaching inn on the corner of Church Street and High Street. Rebuilt about 1788 this public house sports a classical style pedimented doorcase with engaged Tuscan columns in the high fashion of that age. The original route towards
Skipton
was Spring Gardens Lane – Hollins Lane – Hollins Bank Lane.[5] Keighley was to become an
intersection
with other
turnpikes
including the Two-Laws to Keighley branch of the Toller Lane - Blue Bell turnpike (1755) from
Bradford
to
Colne
; the Bradford to Keighley turnpike (1814); and the Keighley—
Halifax
turnpike.
On the outskirts of town is Cliffe Hall, also known as Cliffe Castle, now Keighley Museum.[18] Keighley is the location of the
Keighley and Worth Valley Railway
, a
heritage railway
that passes through
Haworth
(part of the
Brontë Country
, home of
Anne
,
Charlotte
and
Emily Brontë
) and terminates at
Oxenhope
. At Ingrow is the
Museum of Rail Travel
.
Top Withens
and the
Brontë Waterfall
are within walking distance of
Stanbury
, a mile and a half from Haworth.
The town's industries have typically been in
textiles
, particularly
wool
and
cotton
processing. In addition to the manufacture of textiles there were several large factories making textile machinery. These included
Dean, Smith & Grace
,
George Hattersley & Son
and Prince, Smith & Stell. The former operated as a manufacturer of CNC machine tools, particularly precision
lathes
, until 2008.
Keighley has a
parish church
(St. Andrew's Shared Church) and is home to many
Christian
denominations. It has churches and places of worship for
Anglicans
,
Methodists
,
United Reformed
,
Mormons
,
Quakers
,
Salvation Army
and
Jehovah's Witnesses
. Keighley has a significant
Roman Catholic
minority re-established following the repeal of the penal laws. The Catholic population was boosted in the mid-19th century with the arrival of Irish immigrants escaping the 1840s
potato famine
who came to work in the textile and weaving industries. Keighley has three Roman Catholic churches (St Anne's - 1840, St Joseph's - 1934 and Our Lady of Victories - 1939) and four
Roman Catholic
schools (St Anne's - 1857, St Joseph's - 1922, Our Lady of Victories - 1960 and Holy Family - 1964).
Built in 1791 as a cotton spinning mill and we know it was spinning in 1795, and there was a corn mill next door. The chimney was added when the mill was converted from water to steam power.
Robert Heaton of Ponden Hall. Ponden Band was around in 1854. They played at the celebrations in Haworth at the end of the Crimean war. A Directory of the Halifax Manufacturers' Hall published in 1787 tells us Robert Heaton, of Ponden, Stanbury, had Room No. 120 in the Rustic.
The Parish and Methodist Churches

The Devonshire Arms

The Mechanics' Institute

helensheritagewalks
More historical information about Keighley
Keighley Mechanics Institute
The founders were: A joiner John Haigh, a tailor William Dixon, a painter John Bradley, and a reed-maker John Farrish
valendale/mechanics
The prominent building in the right foreground, next door to the County Court, was the original Keighley Mechanics' Institute of 1834, a pioneering educational initiative offering its members classes, lectures and the use of the library and scientific apparatus. The stone globe above its entrance symbolised knowledge. Demolished in 1970, older readers may remember these premises in their later role as Yorkshire Penny Bank. The photograph has been supplied by Mr Kevin Seaton, of Shann Lane, Keighley.
keighleynews/featuresmemorylane/
Devonshire Arms
(Hotel), Church Street.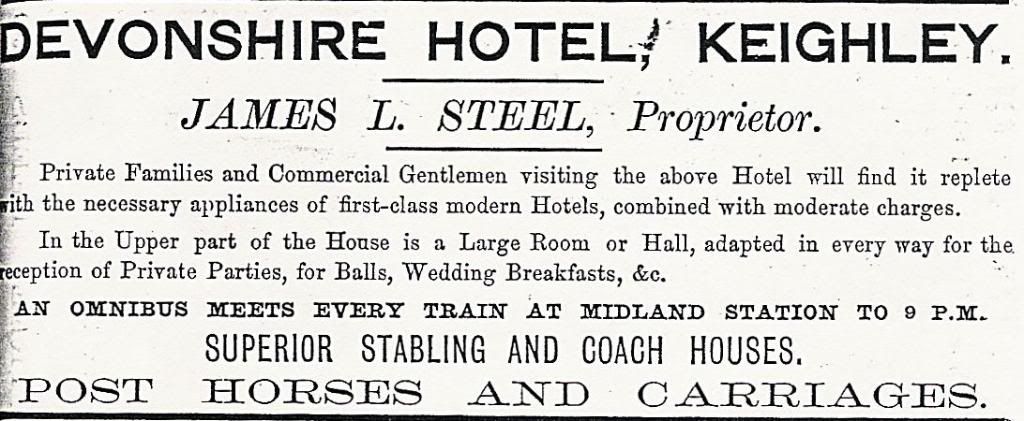 Landlords Samuel Morgan. T. Ecroyd was proprietor 1884 (post chaise) : To Kendal, the Union - To Leeds, the Union - Invincible (from Preston) Possibly on the site of the old Roebuck Inn) (Red Buck)

Free Bought by Corporation ex Duke of Devonshire 6 Jul 1897.
The Devonshire seems to have been very much the center of activity, not only was it a coaching Inn, it is mentioned time and time again in news papers, meetings held, auctions of property and the like. valendale/pubs
Suspicion grew that Currer, Ellis and Acton were really one man writing under different names, Charlotte decided to come clean to her London publisher and, with Anne accompanying her, walked through a rainstorm to Keighley to catch a night train (with a change at Leeds) to London, where she made her dramatic revelation next morning: "We are three sisters."
The sisters, and sometimes Branwell, would go far on the moors; sometimes four miles to Keighley in the hollow over the ridge, unseen from the heights, but brooded over always by a dim film of smoke, seemingly the steam rising from some fiery lake. The sisters now subscribed to a circulating library at Keighley, and would gladly undertake the rough walk of eight miles for the sake of bringing back with them a novel by Scott, or a poem by Southey. At Keighley, too, they bought their paper. The stationer used to wonder how they could get through so much.
readbookonline
The children also learned to draw and paint, taking occasional lessons from John Bradley, founder member of the Keighley Mechanics' Institute, and possibly from Thomas Plummer, son of the master of the Keighley Free Grammar School.
oxforddnb